HOME PAGE
Customer Service
Water Tests
As an informed consumer, you probably know that Water Treatment is ''case specific''.
There is no such thing as ''one method, or one model - is good for all''.
We therefore recommend, that before you purchase, make sure you get what you really need...

Test your water before buying any water treatment product!
First you should know what's in your water.
Then (and only then!) you can make a better decision on which equipment to buy.
---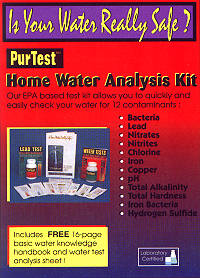 Part PurTest(r) Home Water Analysis Kit - 20 Water Tests for Contaminants in drinking water
Home Water Test Kit
() PurTest® includes a test for Bacteria, Lead, Pesticide, Arsenic. Also includes 16 other tests (8 different ones 2 of each) for Iron, Hardness, pH, Alkalinity, Nitrates, Nitrites, Copper, and Chlorine. Clear dual-language directions, easy methods, and top quality non-toxic test ingredients assure you of reliable test results. HWAK
PurTest® Home Water Analysis Kit is ideal for new homeowners, and is economical for anyone who has not tested their home water recently.

PurTest® Toll-Free 800 hotline provides free general phone assistance if questions arise before, during or after your tests.

This EPA based Home Water Analysis test kit allows you to quickly and easily check your water for:

1 Bacteria test
1 Pesticide test (Atrazine & Simazine)
2 Nitrate tests
2 Nitrite tests
2 Iron tests
2 Hardness tests
2 Chlorine tests
2 Copper tests
2 Alkalinity tests
2 pH tests
1 Lead test
1 Water Test Results Sheet
All of the above are available in other PurTest® kits.
FREE: 1 Basic Water Knowledge Information Book



This kit allows you to screen your water for many elements easily right at home; there's nothing to mail in and no additional lab fees.



---
---
---
---
---
---
---
---
---