Reverse Osmosis Systems
Top Quality - Low Priced
WQA Gold Seal certified, with economical prices!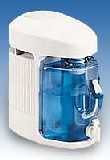 Countertop
Water Distillers
Pure healthy water, when you need it.
Steam distillation plus carbon filtration provides you with clean, pure drinking water and sparkling ice cubes...while enhancing the natural flavor of juices, soups, coffee, tea and other beverages.
Made in the USA! WQA Gold Seal Certified! The 9000 Water Distiller for Pure Water makes a great gift too.
NEW! ALL USFilter (Pentek Ametek U S Filter Plymouth) Cartridges for most systems!
Click here for Water Filter Replacement Cartridges
We are pleased to announce that we now carry a full line of top branded water distillers, water softeners and water treatment equipment, Water Factory and other point-of-use such as whirlpool water filters and excellent Membranes, reverse osmosis and UV Ultra Violet Water Purifier systems, plus the famous

water filtration systems.
Click here to see TGI Pure.
Click here to see Culligan.